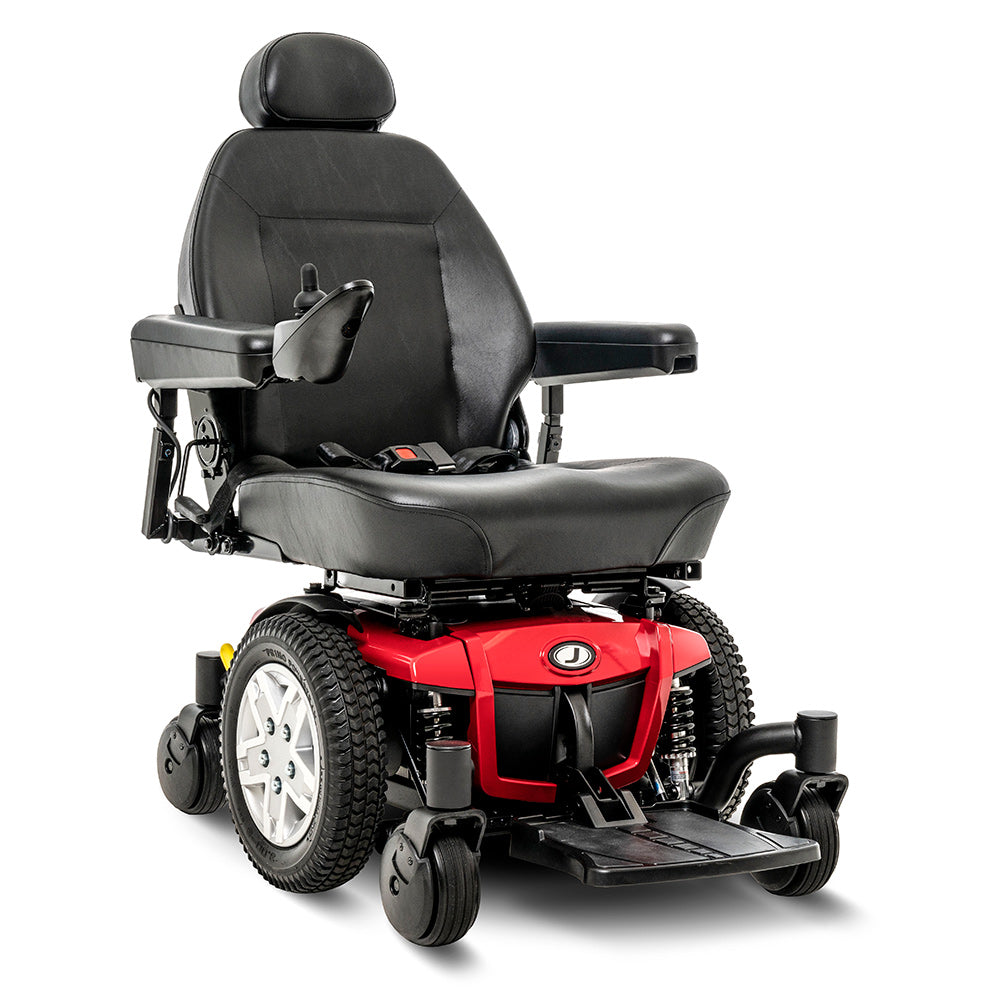 Give us a call today to take advantage of our special offers (281) 389-6556
*PRIDE FDA CLASS II MEDICAL DEVICES ARE DESIGNED TO AID INDIVIDUALS WITH MOBILITY IMPAIRMENTS*
AVAILABLE THROUGH CARECREDIT

! AS LOW AS $90/MONTH *SUBJECT TO CREDIT APPROVAL. MINIMUM MONTHLY PAYMENTS REQUIRED. ASK US FOR DETAILS.
600 ES Info:
The Jazzy® 600 ES features patented Mid-wheel 6® technology and Active-Trac® ATX Suspension for an extraordinary level of performance, maneuverability and the tightest turning radius in the Jazzy line.
Mid-wheel 6 technology incorporates ATX Suspension for extra stability with independent front casters that raise and lower as needed to compensate instantly for changes in terrain and ease of transitions.
The Jazzy 600 ES offers true all-around performance indoors and out, transitions curbs smoothly and is rated for climbing and aggressive performance, making it an excellent power chair choice.
OMNI-Casters (nylon, spherical-shaped casters) on front and rear to prevent wheel hang-ups
Side-mounted, easily accessible freewheel levers
Active-Trac® ATX Suspension for enhanced performance over more varied terrain
Easy front access to batteries
Key Specs
Turning Radius: 20.50"
Top Speed: 4.00 mph
Heaviest Piece: 124 lbs.
Battery Charge Distance: 17.00 miles
Weight capacity: 300 lbs.
Weight: 240 lbs.
Model
Weight Capacity
300 lbs.
Turning Radius1
20.5"
Width1
24.5"
Length1,2
35.5"
Maximum Speed3
Up to 4 mph
Ground Clearance1
2.75"
Front Wheels
6" solid OMNI-Casters
Drive Wheels
14"
Rear Wheels
6" solid OMNI-Casters
Drivetrain
Two-motor, mid-wheel drive
Braking System
Regenerative and electro-mechanical
Suspension Type
Active-Trac® (ATX)
High-Back Seat (max. size)
20"W x 20"D
High-Back Seat-to-Floor Range
21" - 24"
Synergy® Seating
20"W x 20"D
Synergy® Seat-to-Floor Range
17.25" - 19.25"
Standard Electronics
50A, Dynamic Shark
Battery Size (2 required)
12 volt, NF-22
Standard Battery Charger
5A, off-board
Per-Charge Range3,6
Up to 17 miles
Battery Weight5
37 lbs. each
Weight of Heaviest Piece4
124 lbs.
Standard Seat Weight
52 lbs. (high-back)
Standard Seat Size
18" x 18"-20" / 20" x 18"-20"
Medicare Code Coverage
Group 2: Standard (K0822/K0823)
Warranty
5-year limited warranty on frame;
13-month limited warranty on electronics;
13-month limited warranty on drive motors;
13-month limited on batteries.

Notes:
1 Due to manufacturing tolerances and continual product improvement, this specification can be subject to a variance of + or - 3 %. Dimensions listed are for power base only. Overall measurements will vary based on seating and accessory selections.
2 Without front riggings.
3 Varies with user weight, terrain, battery type, battery condition and tire pressure.
4 Does not include seat or battery weights.
5 Battery weight may vary based on manufacturer.
6 Tested in accordance with ANSI/RESNA, WC Vol. 2, Section 4 and ISO 7176-4 standards. Results derived from theoretical calculations based on battery specifications and drive system performance. Testing conducted at maximum weight capacities. This specifi

cation can be subject to a variance of +10%, -5%.
Testing Standards & Warranty
 Testing Standards
Your Pride product has undergone thorough product testing to ensure safety, durability and performance.
Our power chairs, scooters and lift chairs are Food & Drug Administration (FDA) approved medical products that require specific testing prior to release for public use.
The testing requirements accepted by the FDA were developed by the American National Standards Institute/Rehabilitation Engineering & Assistive Technology Society of North America (ANSI/RESNA).
The tests are conducted in accordance with the requirements of the ANSI/RESNA Test Standards and complement an additional stringent testing regiment developed by Pride's Research & Development Team.
All products have passed, and in many cases, exceeded test criteria set forth, assuring the high level of quality synonymous with Pride.
Some of the items our testing criteria include are:
Product Stability & Brakes Effectiveness Tests
Fatigue & Impact Strength Verification Tests
Overall Product Performance Verification
Dimensional Requirement Compliance
Product Durability & Reliability Testing
Material Protective Coating Testing Verification
Misuse and Abuse Testing
Ergonomic Verification
Environmental Testing for Adverse Weather Operation Conditions
Electronic Systems Performance and Durability
Chemical and Bio-Contamination Analysis Testing for Toxicity Verification
Cal 117 Flammability Test Compliance for Seating Foam and Fabric Components
UL94VO Flammability Testing for Compliance of Plastic Components
Electromagnetic Compatibility (EMC)