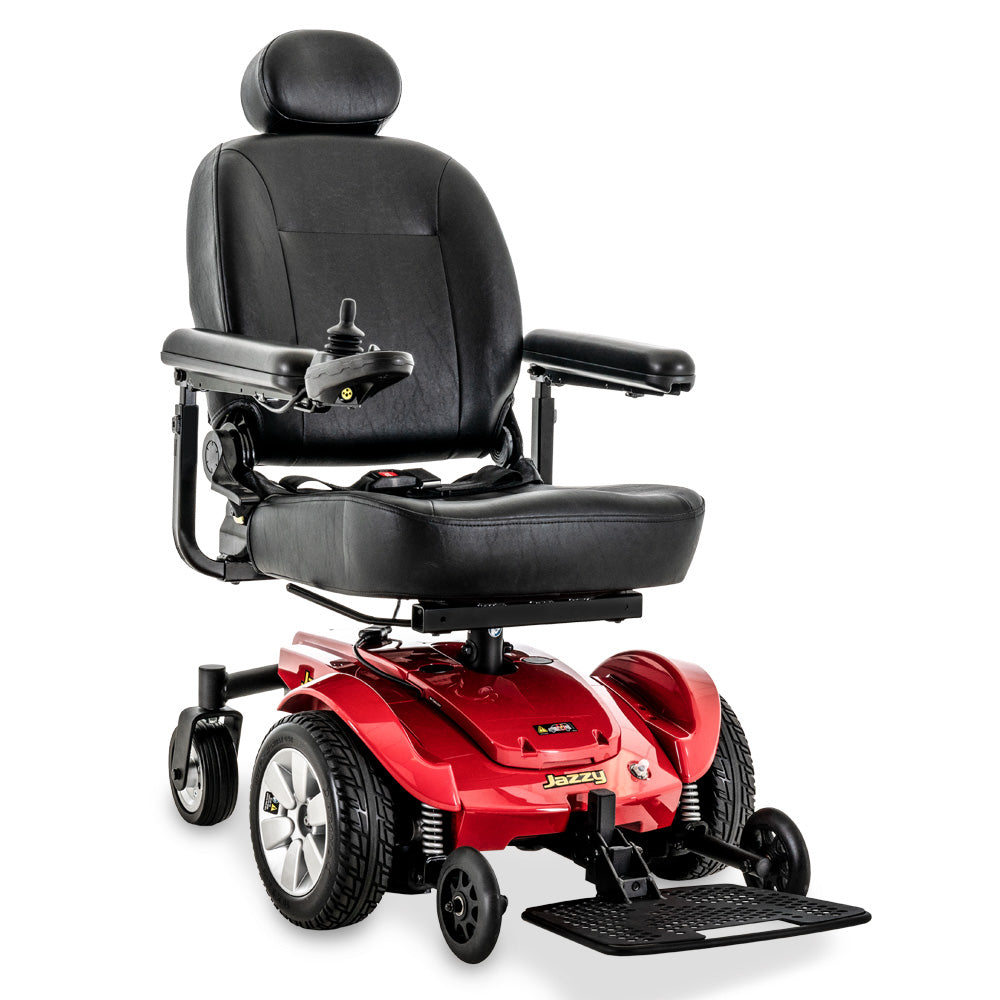 Give us a call today to take advantage of our special offers (281) 389-6556
*PRIDE FDA CLASS II MEDICAL DEVICES ARE DESIGNED TO AID INDIVIDUALS WITH MOBILITY IMPAIRMENTS*
AVAILABLE THROUGH CARECREDIT

! AS LOW AS $90/MONTH *SUBJECT TO CREDIT APPROVAL. MINIMUM MONTHLY PAYMENTS REQUIRED. ASK US FOR DETAILS.
Jazzy Select Specs:
Experience the simplicity and maneuverability of the Jazzy Select®. Equipped with Active-Trac® Suspension, this power chair ensures a smooth, comfortable ride over uneven terrain. Powerful dual motors provide exceptional performance and range, and mid-wheel drive offers a tight turning radius. With an easy to use controller, the Jazzy Select is a perfect choice both indoors and out.
Active-Trac® Suspension ensures a smooth ride experience over uneven surfaces
Mid-wheel drive offers tight turning radius around doorways and corners
Comfortable, high-back depth adjustable seat
Dual, in-line motors provide greater performance, range and efficiency
Intuitive controller is easy to operate
Flip-up height and depth adjustable foot platform offers greater comfort
Testing Standards & Warranty
 Testing Standards
Your Pride product has undergone thorough product testing to ensure safety, durability and performance.
Our power chairs, scooters and lift chairs are Food & Drug Administration (FDA) approved medical products that require specific testing prior to release for public use.
The testing requirements accepted by the FDA were developed by the American National Standards Institute/Rehabilitation Engineering & Assistive Technology Society of North America (ANSI/RESNA).
The tests are conducted in accordance with the requirements of the ANSI/RESNA Test Standards and complement an additional stringent testing regiment developed by Pride's Research & Development Team.
All products have passed, and in many cases, exceeded test criteria set forth, assuring the high level of quality synonymous with Pride.
Some of the items our testing criteria include are:
Product Stability & Brakes Effectiveness Tests
Fatigue & Impact Strength Verification Tests
Overall Product Performance Verification
Dimensional Requirement Compliance
Product Durability & Reliability Testing
Material Protective Coating Testing Verification
Misuse and Abuse Testing
Ergonomic Verification
Environmental Testing for Adverse Weather Operation Conditions
Electronic Systems Performance and Durability
Chemical and Bio-Contamination Analysis Testing for Toxicity Verification
Cal 117 Flammability Test Compliance for Seating Foam and Fabric Components
UL94VO Flammability Testing for Compliance of Plastic Components
Electromagnetic Compatibility (EMC)